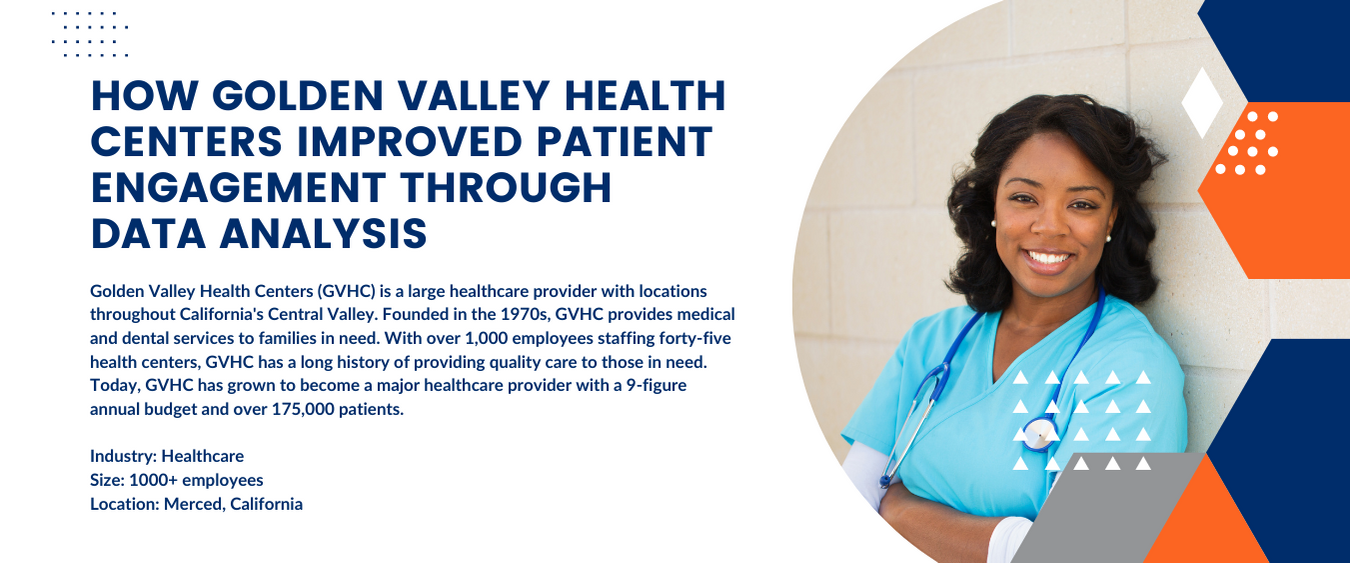 At a Glance
Golden Valley Health Centers (GVHC) is a healthcare organization that strives to provide high-quality, comprehensive care to its patients. Maintaining patient satisfaction and providing an efficient, effective patient experience is critical for the success of GVHC. With an aging population and ever-increasing demands on the healthcare industry, it has become crucial for GVHC to ensure that patients are quickly connected with the right skilled team members.
To effectively manage the patient experience, GVHC needed an advanced call center reporting solution that would help them quickly and easily access the data behind live patient engagements. This was when they turned to Brightmetrics for help.
Brightmetrics™ provided a comprehensive call center reporting software system that lets GVHC quickly and easily access in-depth reports about patient interactions. With Brightmetrics, GVHC was able to analyze its patient data in a meaningful way, giving them the ability to:
Optimize staffing levels

Improve patient satisfaction

Improve employee productivity

Identify opportunities for training and organizational improvement
Now, GVHC can better serve its patients by providing quicker response times and more effective services.
The Problem
Before leveraging Brightmetrics, Golden Valley had difficulty understanding the performance of its telephone system. They relied on manual systems that required significant resources to generate accurate and timely reports, resulting in inefficient utilization of staff time. Additionally, GVHC could not rapidly access granular detail about patient interactions, which limited the capacity for proactive improvement efforts and determining patient satisfaction levels.
The solutions GVHC needed were:
Easily consumed visualizations:

Data is put into easy-to-consume visuals, making it easier to analyze and draw insights.

Real-time reporting on actionable data:

GVHC needed to access accurate and timely reports to make informed decisions on the fly.

Actionable notifications & alerts:

The ability to be notified of unusual events or trends in real-time is invaluable for identifying potential issues before they become more significant problems.

Allow all employees access to business tools:

GVHC needed a tool that could be used by everyone in the organization, regardless of technical expertise.
How Did Brightmetrics Help GVHC?
When it comes to healthcare, time is of the essence, and decision-making must be based on accurate data. Brightmetrics provided GVHC with an intuitive reporting system that could quickly and accurately track call center performance. By having a 360-degree view of its call center data, GVHC could easily identify and address issues impacting its patient service and operations.
Some of the top benefits that GVHC has seen since implementing Brightmetrics analytics include: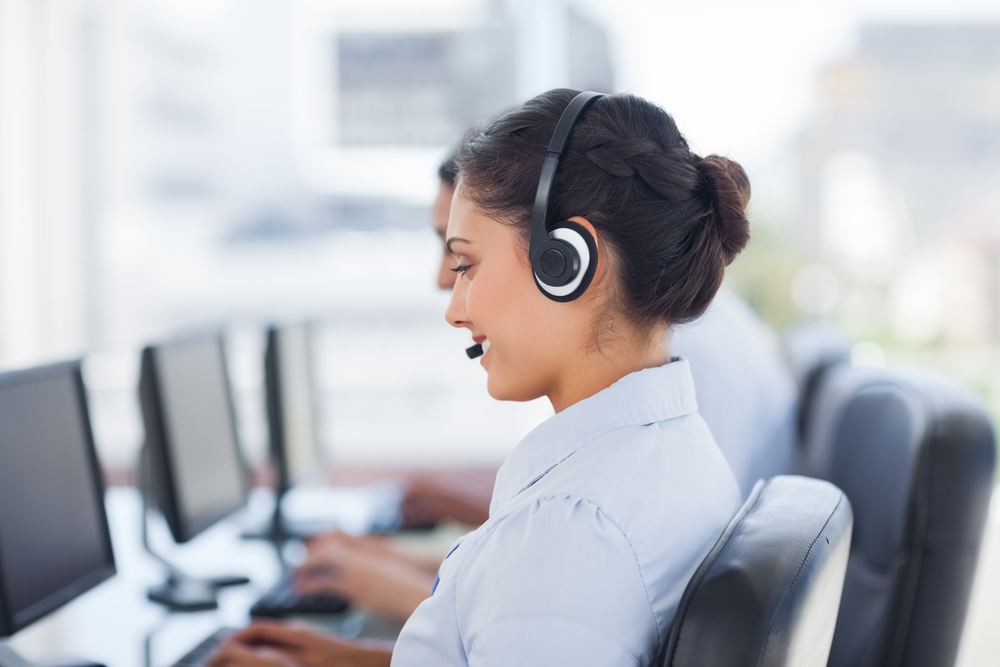 "Reports from Brightmetrics enable us to gauge the staffing levels needed to keep up with our call volumes. We can measure abandonment rate and hold times to determine if our patients are being serviced in a timely basis. If not, then we are able to adjust accordingly."
1. Call Volume and Staffing of the GVHC Call Center
Brightmetrics has been a game-changer for GVHC's calling volume and staffing. The software's intuitive reporting system allows GVHC to quickly identify how many calls are handled in a given period and the average call duration. With this information at its disposal, GVHC can make informed decisions about when additional staff may be necessary to ensure efficient operations.
Before using Brightmetrics, GVHC estimated its quarterly call volume at 100,000. However, the Brightmetrics system showed that quarterly call volume was almost quadruple that estimate. With this newfound insight, GVHC could adjust its staffing accordingly and ensure it had enough staff to handle the call volume.
The benefits of viewing and tracking call volume and staffing include:
A better understanding of call center performance:

By comparing volume metrics with actual call center performance, GVHC can better identify conflicts in operations and make informed decisions on improving patient service.

More efficient operations:

GVHC's staff no longer has to worry about being understaffed during peak call times because they now have the data they need to determine when additional staff may be necessary accurately.

Cost savings:

GVHC has saved money by ensuring they have the correct number of staff for call volume and avoiding overstaffing.
2. Technical Support
The Brightmetrics system also gives GVHC improved technical support. The software's intuitive reporting feature lets GVHC team members quickly identify issues and track the resolution process. In the past, GVHC had a member whose sole job was to manually compile technical support data for different departments. In a fast-moving environment like a healthcare call center, lag time in reports results in lost opportunities, outdated information, and potential patient dissatisfaction.
Brightmetrics' easy-to-use reporting system has allowed any GVHC department to quickly and accurately create reports in a matter of minutes. With advanced filters, GVHC staff can easily customize their reports to get the exact data they need. In addition, Brightmetrics also gave support in the form of training materials, user guides and direct support when needed. This removed the barrier of needing technical experience to use the software and provided autonomy to GVHC staff regarding their reporting.
Understanding how vital a delightful patient experience is, the staff of GVHC was impressed with the service they received from the Brightmetrics Support team. For example, if a call center manager had a question about pulling a specific report, he would get a response from the Brightmetrics team in minutes and, at maximum, 2 hours. According to the network administrator:
"The value is extraordinary. Nobody we work with gives the kind of service Brightmetrics does. And not only is the service great, but they're professional beyond belief."
The benefits of using the Brightmetrics system for technical support include:
Improved data accuracy:

GVHC can now trust that its reports are accurate and up-to-date.

Reduced workloads:

By automating the reporting process, team members can focus on other areas of patient service instead of manual report compiling.

Cost savings:

GVHC has saved money by streamlining the process and eliminating manual labor associated with tracking technical support data.

Easier troubleshooting:

The software's intuitive reporting feature allows GVHC team members to quickly identify potential causes for technical problems and take action accordingly.
3. Patient Experience
The Brightmetrics system has also been instrumental in improving patient experience at GVHC. Every stage of the caller interaction is tracked with data, allowing GVHC to better understand the call interaction and the entire caller journey. With this insight, GVHC can better identify areas of improvement and increase patient satisfaction.
The metrics that helped GVHC improve patient experience include:
Number of callers in queue:

This data enables GVHC to provide accurate wait times to the callers in the queue. By identifying peak call times, GVHC was also able to plan its staffing accordingly and ensure patients are not waiting too long for their calls to be answered.

Average time in queue:

GVHC can track how long patients are waiting for a call to be answered and ensure wait time are kept to a minimum.

Improved patient service:

GVHC can monitor agent performance in real-time and take corrective action if needed. By tracking agent performance, GVHC team members can ensure they provide the best possible support for their patients.

Number of callbacks:

By tracking the number of callbacks made, GVHC can determine how often specific individuals are calling and develop better strategies for patient retention. GVHC can create a better patient experience and increase patient loyalty by prioritizing patients with more callbacks.
A brief network connectivity outage left GVHC agents without access to their Brightmetrics web services for a moment, operating as they had previously, with only their phone system to run operations. Brightmetrics had become integral to the daily, hourly operations cadence so much that:
"You would have thought I took away everybody's favorite toy. I didn't think they were paying attention, but all of the agents were disappointed about their inability to know the heartbeat and pulses of the organization. I was really impressed at how much people rely on the information to get a feeling for what's going on."
Data Will Be Critical in the Future of Healthcare
GVHC's experience with Brightmetrics proves how important it is for healthcare organizations to utilize call center reporting software solutions. They can provide accurate insights that enable healthcare providers to improve patient service, allocate resources better, and ultimately increase patient satisfaction. By leveraging this technology, GVHC was able to revolutionize the way it manages technical support and deliver better care to patients. In doing so, GVHC set an example for other health centers looking to get the most out of their call centers and provide better healthcare experiences.
As more data is collected going forward, Brightmetrics's reporting capabilities will be able to help GVHC further improve its service in multiple ways, including:
Improved Patient Engagement
Over time, the data collected from the Brightmetrics system will allow GVHC to understand common patient complaints better and identify areas that need improvement. Call centers must be agile and responsive to patient needs, which are always changing.
With Brightmetrics' reporting capabilities, GVHC can develop strategies to better engage with patients and provide more tailored experiences.
Understand the Effectiveness of Your Staff and Training Progams
By looking at data such as agent performance and average call length, GVHC can understand how well its staff performs and which areas require additional training. This data can also identify which calls are more successful and focus on providing better support for those specific scenarios.
Expand Services
With the data provided by Brightmetrics, GVHC can identify what medical services patients need the most, allowing it to expand and offer better support. This can also help GVHC focus its resources more efficiently by only providing necessary medical services for the population it serves.
Boost Employee Productivity
Using the data to identify better processes, GVHC can implement strategies to reduce wait times and increase agent productivity. This could allow GVHC to take on more patients and provide better service without hiring additional staff members. It could also improve employee morale by streamlining processes and making their jobs easier.
Build Better Patient Relationships
Call center interactions are often seen as cold and transactional. However, by monitoring and analyzing which patients are calling more frequently, GVHC can better understand the patient's needs and build stronger relationships with them. This data would also allow GVHC staff to provide more personalized experiences for repeat patients and ultimately increase patient retention.
Patient Experience Impact
By leveraging Brightmetrics call center reporting software, Golden Valley Health Center revolutionized its technical support practices and improved overall patient satisfaction. Through this solution, GVHC was able to identify areas of improvement and create tailored experiences for repeat patients. This case study shows how healthcare organizations can use data-driven solutions to enhance their services and deliver better patient care. In today's world, data will continue playing an increasingly important role in healthcare, so taking advantage of solutions such as Brightmetrics will become more and more common.
We at Brightmetrics are proud to have been part of Golden Valley Health Center's success story. We look forward to seeing the impact this technology has on other healthcare organizations in the future.
We Celebrate Our Customer Successes