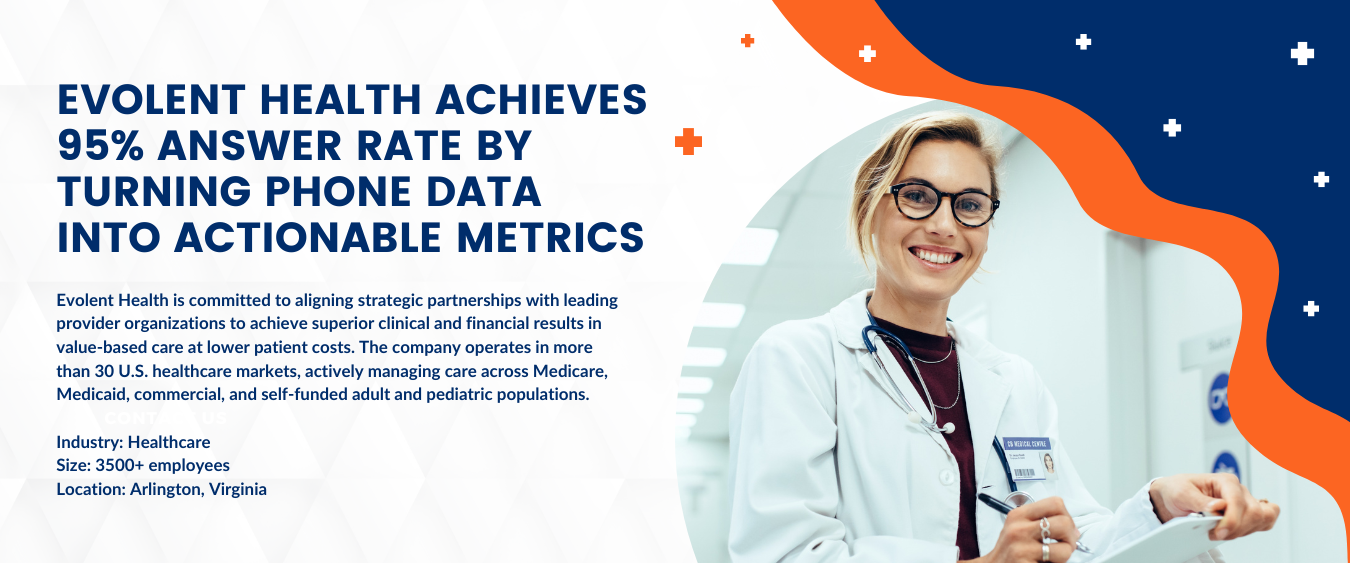 At a Glance
Evolent Health struggled with data visualization, management, and reporting issues with the Mitel MiVoice Connect system. Here are some key points gathered from the case study:
While recorded patient phone calls have remained essential in shaping service strategies, Evolent Health lacked the necessary data tools to interpret the key information exchanged between contact agents and callers.

Evolent Health's MiVoice Connect call system could not analyze critical client metrics from customer calls.

Brightmetrics resolved the issue by replacing manual metrics with automation and providing contextual analysis in communication.

The Brightmetrics system's data visualization and reporting solutions for MiVoice Connect avoided costly delays for senior management.

Brightmetrics developed a strategic partnership that led to actionable guidelines and automated metrics based on the latest service standards in the healthcare industry.

The systematic Brightmetrics updates helped to refine long-term patient experiences with cost-effective services.
The Problem of Deriving Actionable Data
Evolent struggled with the MiVoice Connect native reporting features before reaching out to Brightmetrics. Specifically, the team faced issues in identifying critical client perspectives.
According to their organizational context, leadership could not establish performance goals and quality management metrics for team members. As such, the Evolent team lacked the guidelines to effectively monitor significant client data trends.
The Evolent Health team also spent hours compiling available data in creating a legible format suitable for distribution. However, the tedious process only acquired minimal insights from the customer experience. Evolent's UM Technical Supervisor shared, "While there's a way to track phone metrics in MiVoice Connect, it's nothing close to what Brightmetrics does."
Evolent Health relied on a cumbersome manual process of gathering metrics with high risks of human error. Directors and senior managers added 12-15% hours to their workload with these manual data processes, often exceeding standard business hours, compromising work-life balance, and risking lower job satisfaction.
The Brightmetrics Solution - Effortless Data Analytics
Evolent Health immediately observed a significant improvement in data perspective access for all users after a quick setup of Brightmetrics UC Analytics™ for MiVoice Connect. The Evolent Health team also streamlined service operations with Brightmetrics' user-friendly data visualizations and report generation.
Brightmetrics saved the Evolent Health team the trouble of sorting through clunky and static reports and the hassle of converting compiled raw data into actionable insights. As such, Evolent Health succeeded in the democratization of data-driven customer and business insights.
"As soon as I got access to Brightmetrics, I wasn't going to fiddle with that other system anymore. It just wasn't user-friendly and required a lot of manual entries to have the system run a scan on the data that we needed."
Real-Time Transparency of Employee Performance
Brightmetrics REAL TIME Analytics™ enabled direct line of sight and transparency into employee performance. The specialized services simplified reports and visualizations, allowing Evolent's leadership team to easily conduct practical customer trend analysis. Team leaders had the convenience of generating timely reports with location specifics catered to every service area. Leaders also had the option of automating report delivery to top management through email or URL. The real-time transparency offered a better alternative to canned dashboards found in native phone call systems through precise feedback that optimized service quality.
More Realistic Goal-Setting and Expectations
The change empowered the Evolent Health team to establish realistic agent performance objectives and expectations. These guidelines suited healthcare industry standards, achieving 95% answer rate, maximum ring time, and average ring time targets.
Frictionless System Setup
The Evolent Health team found the setup of Brightmetrics services easy, quick, and intuitive. Team members tapped on a user-friendly interface where they could customize their reports and dashboards without delay. Data sharing throughout the organization proved easily manageable and supported the service team with optimized performance.
"Brightmetrics has been a timesaver because it's so user-friendly. I can set up these automated reports and get the constant requests from management off my plate."
3 Ways Brightmetrics Bridged the Gaps for Evolent Health
1. Communicated Measurable Expectations
Brightmetrics UC Analytics™ for MiVoice Connect offered detailed data visualization based on specific time-frames, enabling comprehensive trend analyses. The thorough process provides data-based methodologies for accurate metrics, measures team success rates, and identifies members who require additional coaching.
According to one supervisor: "Brightmetrics helped me establish the level of expectations with my team and position our performance around those expectations."
2. Democratized Distribution of Data-Driven Insights
Brightmetrics analytics provided an intuitive dashboard and reporting functions. These functions offer frictionless ways to save and share customized parameters or schedule deliveries of analyzed insights. A combination of automation, advanced calculations, and user-friendliness made data management cost-effective for senior leadership.
Brightmetrics minimizes data errors by transferring relevant info to the respective recipients. The system presents information in flexible formats that eliminate the need for advanced technical skills in preparing or interpreting content.
Evolent's UM Technical Supervisor says, "It's a real time-saver. I can configure the system so it automatically emails me what I require. All I need to do is analyze the data on a report."
3. Guided Continual Improvement for Improved Business Outcomes
Brightmetrics UC Analytics facilitated transparency and timely feedback to employees, resulting in improved performance. The system revealed new opportunities for the Evolent Health team to cross-train and expand departments based on specific goals.
Brightmetrics presented historical and real-time call data for a complete picture of Evolent Health's call service system. Doing so allowed team members to optimize time, resources, and call strategies according to accurate metrics and expectations. Brightmetrics empowered Evolent Health's teams to meet their service goals and contractual obligations.
The supervisor reported, "Being able to target those metrics is important because it shows my team the expectations and how they can do their job successfully."
On a Final Note
While the Evolent Health team successfully handled customer communications via MiVoice Connect, the system's native features could not effectively derive actionable data from recorded conversations.
Phone system data gathered from live customer engagements may prove invaluable, but service staff may lack the tools to analyze the information. The Evolent Health team lacked the tools for integrating and interpreting data from multiple sources. As such, Evolent Health missed out on valuable information that would drive and scale the success of its service strategies.
Brightmetrics resolved the issue by making the data accessible to their Mitel MiVoice Connect phone system and contact center. The solution relayed data to relevant parties for expedited communications and improved service quality. Team members no longer faced irrelevant details or inaccuracies that compromised customer experiences. Also, the user-friendliness of Brightmetrics made it possible for team members to use the software without fuss, without relying on senior management support and assistance, therefore, freeing valuable time for other high-level duties.
Evolent's UM Technical Supervisor summarized the experience with the call center analytics solution: "Brightmetrics plays a key piece in managing everything as a whole for us."
We Celebrate Our Customer Successes