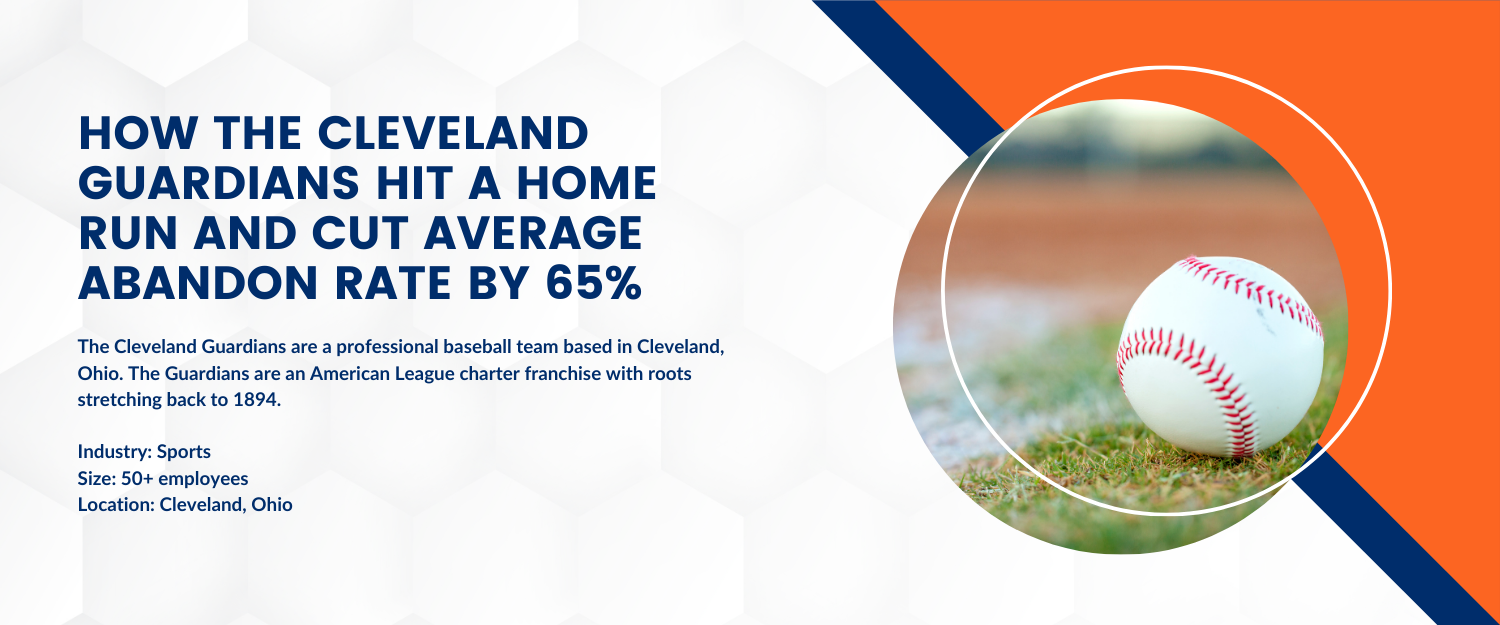 At a Glance
In 2016, the fan services department of the Cleveland Guardians logged call abandon rates of 20% and average queue times of nearly 5 minutes. To improve, the department implemented measurable and deliverable key performance indicators (KPIs) and developed incentive programs for their team.
Brightmetrics offered an ideal solution for the fan services team in developing and measuring KPIs. Our platform enabled the Cleveland Guardians to log and analyze the historical and real-time performance of the whole fan services department. This enabled:
1. Easy reporting to other business units
2. Quick identification of pain points or surges of inbound calls
3. Training and monitoring opportunities for team members
As a result, the Cleveland Guardians could provide more consistent and high-quality customer service via their fan services department. Because of the Brightmetrics suite, call abandon rates were reduced by 65% and average queue times for callers were cut by 38%.
Measuring Team Performance
The Cleveland Guardians are committed to delivering the best possible fan experience as a leading baseball franchise. However, the fan experience doesn't begin on game day. Instead, the Guardian's fan services department is the first point of contact for many customers and fans. The team is responsible for fielding queries on various issues, including ticketing, merchandise, tours, and hospitality.
But how do you ensure that a fan services team delivers the best possible service? In the view of Estee Arend, the Guardian's Fan Services Coordinator, the answer lies in setting achievable and measurable goals. These include reducing the abandonment rate on inbound calls, cutting call queue times, and maximizing the number of calls that end with a positive outcome.
However, before 2017, many team members found it difficult to see how well they achieved their goals. "We were just using the native reporting," says Arend, "which wasn't giving us the information we were looking for."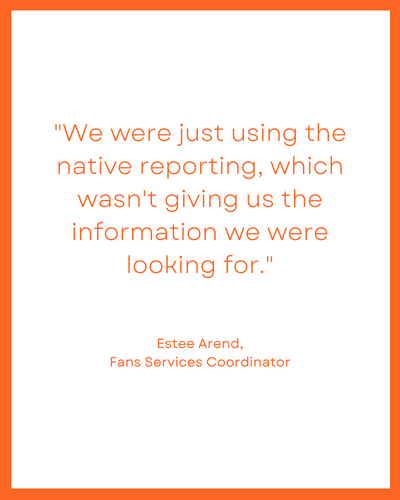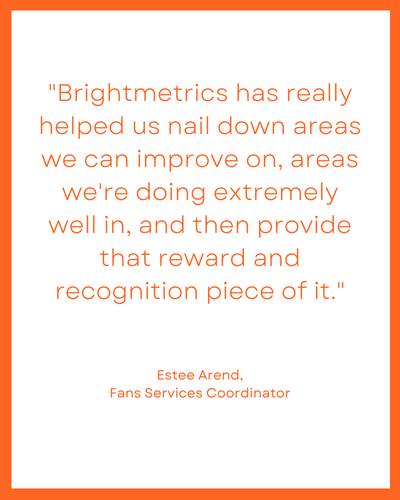 Bringing In Brightmetrics Analytics
The Guardians turned to solutions from Brightmetrics to deliver much-needed metrics, analytics, and insights for the fan services team. From there, the team could then better benchmark and evaluate their performance.
Brightmetrics UC Analytics™ for Mitel MiVoice Connect was at the heart of the solution. With it, the fan services team pulls and organizes phone system data and then converts that data into critical insights. In addition, Brightmetrics UC Analytics provides flexible and customizable dashboards and scheduled reports to help the fan services team understand how they perform relative to their targets.
The Guardians also took advantage of Brightmetrics Enterprise Contact Center Analytics add-on service. Along with flexible analytics, this solution also helped streamline agent management. It improved reporting to stakeholders beyond the fan services team.
Finally, the Guardians also implemented Brightmetrics REAL TIME Analytics™ to provide live dashboards and operational data. As a result, stakeholders can also access minute-to-minute insights into how the fan services team were doing.
"Brightmetrics has really helped us nail down areas we can improve on, areas we're doing extremely well in, and then provide that reward and recognition piece of it," sums up Arend.
Enabling Consistently High-Quality Service
Using Brightmetrics, the fan services team at the Cleveland Guardians have deployed easily customized dashboards and scheduled reports. These, in turn, can inform and measure how the fan service team performs on their key performance metrics. As well as offer day-to-day insights to measure how the team is doing on a minute-to-minute level.
With this extensive measurement capability, the Guardians could roll out an Employee Incentive Program for the fan services team. Weekly gift cards were awarded to team members who could achieve goals around call abandonment rate, hold times, and other key performance metrics. This incentive program was so successful that it was extended to the sales team, with them participating in daily contests around outbound calls and other vital goals.
The Guardians leadership team also uses Brightmetrics to forecast and plan for exceptional circumstances that may impact call volume. To do this, they drew on historical data to project how certain situations are likely to increase call volumes, such as rain-outs, press releases, and postseason play. Management can then use this historical information to staff the fan services team accordingly, allowing for more consistent fan service quality.
REAL TIME dashboards allow this to be taken a step further. With them, the Guardians can monitor and immediately react to events that may cause spikes in call volumes and deploy measures such as adjusting break times. The Guardians can see their live call queue, alerting them if and when the fan services department may need urgent extra resources.
The fan services department also uses the Brightmetrics "cradle-to-grave" reporting features. These allow the team to hunt down and resolve specific customer service issues and guide them toward the best resolution. Cradle-to-grave reporting has also helped the help desk team promptly resolve unexpected technical problems in the phone system, such as call recording malfunctions.
Empowering the Team To Be Their Best
The Cleveland Guardians are taking advantage of the benefits of the entire Brightmetrics suite among their fan services team. Through the dashboards, metrics, and analytics offered by Brightmetrics, they've been able to:
☑️ Set realistic and measurable KPIs to create employee incentive programs.
☑️ Track the performance of the fan services team historically and in real-time.
☑️ Understand the performance of individual agents for training and monitoring purposes.
☑️ Allow the team to maintain service quality in the face of both expected and unexpected events.
☑️ Improve the quality and speed of technical system troubleshooting.
We Celebrate Our Customer Successes